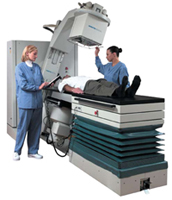 The Huestis•Cascade™ Simulator is world renowned for accurate, reliable and very affordable simulation. Easily installed, its freestanding design eliminates the need for an expensive floor pit and major room modification. Driven by the latest operating system, it combines versatility with an impressive array of features. Our easy-to-use operator control station, coupled with the hand pendant, puts flexibility at the user's fingertips. An easily read 17" flat panel monitor displays position feedback and operational status. Asymmetrical or symmetrical field wires offer selectable, precise positioning, while calibration software facilitates set up and maintenance. The Huestis•Cascade™ Simulator is FDA registered and CE certified.
Radiotherapy teams worldwide have come to depend on Huestis Medical for quality and cost-effective radiotherapy products. The Huestis•Cascade™ Simulator is CE certified.
Click here to download the PDF Brochure for this product.
If unable to open the document, please Click here to Install Adobe Reader on your computer. Once you have Adobe Reader, you should be able to read any PDF document on this web site.