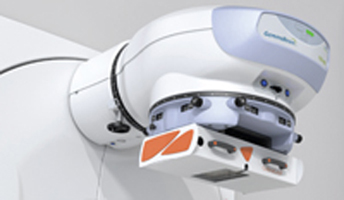 Click here to download the PDF Brochure for this product.
If unable to open the document, please Click here to Install Adobe Reader on your computer. Once you have Adobe Reader, you should be able to read any PDF document on this web site.
Cobraleaf® is the mechanical add-on MLC for Best Theratronics' Cobalt-60 Teletherapy System. Characteristics include:
Instant usability
Highest reliability (no electrical components, easy maintenance)
Minimal investment
No reliable power supply required
Easy leaf retraction system
The innovative concept of the CobraLeaf® MLC system now provides the ability to conform Best Theratronics' Cobalt-60 Radiotherapy to the exact tumor shape without the cumbersome use of lead blocks. The method, known as 3D CRT, improves the impact on the cancerous tissue while sparing the surrounding healthy tissue. The MLC connects modern treatments methods in radiotherapy with high cost efficiency and maximum reliability for all environments, even in remote areas, which helps save lives all over the world.