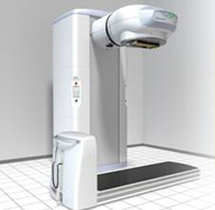 The GammaBeam™ 500 Total Body Irradiator is designed as a reliable teletherapy unit that is able to produce a large uniform rectangular radiation field at an extended source-to-skin distance to deliver total body irradiation. It is optimally designed to deliver total body irradiation to patients in preparation for bone marrow transplantation.
Click here to download the PDF Brochure for this product.
If unable to open the document, please Click here to Install Adobe Reader on your computer. Once you have Adobe Reader, you should be able to read any PDF document on this web site.