Click here to download the PDF Brochure for this product.

If unable to open the document, Click here to Install Adobe Reader on your computer. Once you have Adobe Reader, you should be able to read any PDF document on this web site.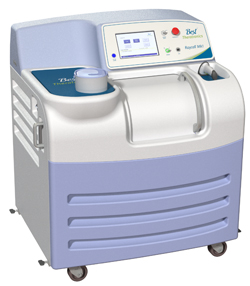 Efficient, convenient and user friendly, the Raycell® Mk1 X-ray Blood Irradiator provides a safe and cost-effective choice for blood irradiation – backed by Best® Theratronics' trusted expertise and commitment to quality. It delivers the required dose to help prevent TA-GVHD.
Raycell® Mk1 Technical Specifications
Weight: 650 kg (1433 lbs)
Photon Energy: 160 keV max, ∼50 keV effective energy
Floor Landing: 76 kg/cm² (1091 lb/in²)
Cooling System: self-contained, no external water required
Dimensions
Height: 1255 mm (49.4 in)
Width: 1180 mm (46.5 in)
Assembled Depth: 975 mm (38.4 in)
Uncrated Depth: 870 mm (34.25 in)
Electrical Requirements
Single-phase 60Hz, 21A typically at 208V
Single-phase 50Hz, 19A typically at 230V
Environmental Requirements
Temperature: 10°–30°C (50°–86°F)
Relative Humidity: 5%–75%
Canister Features (with Regular Filter)
Volume: 1.6 L
Diameter: 173 mm (6.8 in)
Height: 79 mm (3.1 in)
Estimated No. of Bags per Cycle: 3 Bags, 300 mL each
Central Dose Rate: ∼6.0 Gy/min
Time for 25 Gy Central Dose: ∼5.3 min
Dose Uniformity: 19.6 to 30.4 Gy (1.55:1),
Time for 25 Gy Minimum Dose: ∼6.3 min
Dose Uniformity: 25 to 38.8 Gy (1.55:1)
Options & Accessories
Barcode Reader
Syringe Holder
LIMS Connection
Printer, USB or Network Connection
Additional Canisters
Irradiation Verification Indicators
Service Agreements
Dosimetry
UPS