Click here to download the PDF document.
A Convenient Choice for Blood Irradiation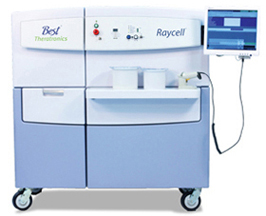 Efficient, convenient and user friendly, the Raycell® Mk2 X-ray Blood Irradiator provides a safe and cost-effective choice for blood irradiation – backed by Best® Theratronics' trusted expertise and commitment to quality. It delivers the required dose to help prevent TA-GVHD (Transfusion-Associated Graft-Versus-Host Disease).
Superior Performance &
Unparalleled Dose Uniformity
X-rays are produced by bombarding targets with electrons, which are accelerated in a vacuum through a high-voltage electrical field. The dose is delivered by two opposing X-ray tubes with the sample canister located centrally between them. The two cone-shaped beams ensure that a tight dose is delivered to the product and exceptional dose uniformity is attained.