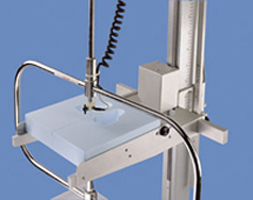 Renowned as the worldwide industry standard, more Styro•formers are in use than all other shielding block mold cutters combined. Styro•former® offers accurate, easy and fast cutting with minimal training. A hand-held tracing stylus allows quick radiograph outlining to provide a smooth and efficient block cutting procedure.
Our Styro•former® Power Lift LT features panel-mounted drive controls for both source and block arm distances. A quick change wire system uses unique thumb screws and a table-mounted measuring template for quick, easy wire changes. Radiotherapy teams worldwide have come to depend on Huestis Medical for quality and cost effective radiotherapy products. The Styro•former® is FDA registered and CE certified.
Click here to download the PDF Brochure for this product.
If unable to open the document, please Click here to Install Adobe Reader on your computer. Once you have Adobe Reader, you should be able to read any PDF document on this web site.